Friday, November 19, 2010
I have a wonderful new store on Greeting Card Universe. Wonderful quality and stock. Come by for a visit!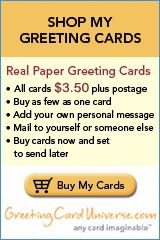 Sunday, November 14, 2010
Meeting Doreen Erhardt of Salon of Art greeting cards on Greeting Card Universe has been a special experience for me. She publishes a wonderfully informative newsletter as well as runs her card store on GCU of her amazing art. She has so many creative things going on in her life that I don't know how she does it all. I was beyond honored when she chose to interview and feature me for November & December in her newsletter. Be sure to visit her card store. I hope you enjoy the article as well as her newsletter!
http://salonofartnewsletter.weebly.com/featured-artist.html